Poetry Educational Programs for Students - elementary, high school, college, etc.
Universities, Colleges

High Schools, Secondary

Elementary Schools
Ray McNiece is a Nationally Accredited Teaching Artist
https://www.youngaudiences.org/work-we-do/national-initiatives/credentialed-teaching-artists/ray-mcniece
Photos Above : Young Audiences Nationally Credentialed Teaching Artists
CAL Roster Artist: https://arts-inspiredlearning.org/artists/ray-mcniece/
pdfs_texts/Poetry Journey Educator Guide.pdf
Click Brochure to download
Ray's programs combine original poetry and monologues with song, classics, multi-cultural works, comedy, and audience participation - this lively, interactive mix makes writing come alive from the page to the stage.
Ray believes strongly in "edutainment," theater that enlightens as it entertains. Performance workshops utilize kinesthetic and whole language learning to take the students' own writing from the page to the stage. Through that process, they develop a deeper appreciation of poetry, better language ski
lls, and the self-esteem that comes from self-expression. For colleges and universities (graduate and under-graduate programs), elementary and secondary schools,

Ray offers:
a daily program of performances and workshops (see Workshops)

one and two week residencies. (see Residencies)
During the assembly program, Ray performs a collection of his own poems, guitar-accompanied songs and dramatic monologues. This initial performance, with audience participation, and improvisation, includes forms that the students will study in the workshops
narrative

elegy

lyric

haiku

monologue
The assembly program provides a focal point to reference later techniques and discussion.
(photo, Ray autographs "The Road That Carried Me Here" for students.
Performance Poetry Workshops
In Performance Workshops, Ray demonstrates basic theater skills - stance, voice projection, gesture, movement - pertinent not only to poem performance, but also to presentation of self in everyday life. The students will memorize a poem from the curriculum using kinesthetic exercises. The class will also script and score a poem, assigning parts and finding motion and emotion for each line. The entire class will be involved in the staging, rehearsal and final performance.

The writing workshops employ techniques such as poem modeling. Ray performs an original work followed by a "quick write" session with the students based on the same theme. Group writing exercises include games and also pivoting from a shared focal point - a painting, event, common topic - to create a class poem. Writing workshops also include "sourcing the poem," a four-step process whereby a memorable image, anecdote, or family story is grounded in sense details to become a whole poem.

Each performance and workshop session will include supplemental asides on theater and poetry, secondary reading suggestions. Tips and techniques on writing and performing based on Ray's own study and experience will be offered for the student's own tool kit.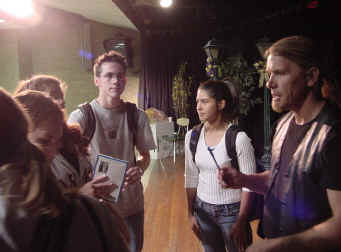 Poetry residencies provide in-depth, hands-on opportunities for Ray to kindle, develop and foster a student's relationship with language in general and poetry in particular. Through writing, work-shopping and performing poems, students experience the power and beauty of words, learn better communication skills, and build self-esteem through self-expression and the completion of a process.
By its nature, a residency is intensive. It is interactive. It instills a sense of purpose and accomplishment. It focuses students and opens them to new possibilities of learning. Employing both student-centered and cooperative learning models fundamental human dynamics. A residency is an immersion in a process by which we discover our potential and how it merges with the learned life around us.


In addition to his exciting, interactive, K-12 Poetry Show he has toured for many years in NE Ohio programs, Ray offers this historical character program of Johnny Appleseed
. This program is available beyond the state of Ohio. Please inquire.
This interactive experience recreates an individual in botanical history who has been influential in developing our knowledge of the world of plants. Click HERE [ Johnny Appleseed ] for info on the programs, and to view comments and experiences of teachers, educators, and students.

With Ray McNiece and Sean Kelly
This performance and workshop explore lyrics and music as literary expression, showing how themes, styles, and techniques of contemporary songs connect with the history of poetry.
The 50 minute performance covers the varieties of "guitar poetry" that are the roots of rock and roll. From work songs (sea chanties, field hollers) to train songs, from country to blues, from jazz to Broadway show tunes, Ray and Joe demonstrate the styles that created and continue to inform rock And roll.
The workshop shows the links between songs from the performance and the diverse literary and oral traditions that comprise the American experience. "Summertime," from the musical Porgy and Bess, segues into Van Morrison's "Moondance," a love song in the same key. What is a love song? A train song, "Rollin' in my Sweet Baby's Arms," transitions to one of Woody Guthrie's dust bowl ballads and then to Curtis Mayfield's "People Get Ready." How do these lyrics reflect the respective times when they were composed? What is the influence of William Blake on Jim Morrison of the Doors? How do both poets use symbolism in their work? How did the Beat poets influence Bob Dylan? How does the lyric structure of Scottish Border Ballads compare with Blue's format? How has the African- American folk poetry of "the dozen's'' influenced rap? The workshop will discuss these questions through lecture, demonstration and question and answers The workshop will also include an audience participation finale where students will create the verses and chorus of a song.
The performance and workshop pivot from Steven Smith's LYRICIST REVIEW, and encourage students to compare and contrast the songs they listen to everyday with poems from the curriculum to gain an understanding of the power and beauty of poetry.


Ray McNiece is a published poet, an actor and a folk-rock guitar singer. He is lead vocalist for the poetry music project Tongue-in-Groove. Sean Kelly is a singer-songwriter in the Richie Havens tradition. He and Ray comprise the duo, Soul Surviving Sons.